Standards for Assisted-living Services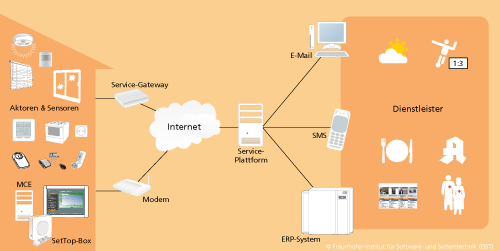 The aim of the "StaDiWaMi" project of the Fraunhofer Institute ISST and partners from research and industry is to work out and implement standards in the area of assisted-living services along the entire supply chain.
In the project, both processes and technological, organizational, and business-management interfaces are standardized, but not the services themselves.
Through the standards thus created, parallel systems that could hamper market development are avoided. The project seeks to ensure a fast and extensive spread of the results in order to exploit the overall economic potential of the market in assisted-living services.
Despite the growing need for such services, however, there is still only a limited willingness of potential customers to pay for them, as coordinated problem solutions and innovative business models remain rare. Rather, the use of assisted-living services requires considerable coordination effort on the part of the customer, who must actively request all services and submit the charges for them separately.
"StaDiWaMi" strives to achieve an improvement in this area by establishing standards for assisted-living services.