Strategies for Integrating Technology in Personal Services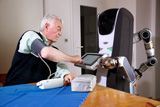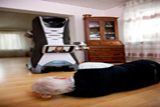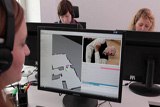 In order to continue providing personal services to the broader population in high quality and at reasonable cost in the future, these services must be delivered more efficiently.
The goal of the "Tech4P" project was to develop strategies to support personal services by means of modern technologies.
On the basis of three concrete case studies – technical household help, virtual trainer, and technical mobility assistance – the optimal interfaces between person, technology, and organization were identified.
The "Care-O-bot®" 3, developed by the Fraunhofer Institute IPA, was regarded as a prototype for technical domestic assistance. Here, the use of the robot was investigated for, especially, communication support for respective service providers, e. g., in emergencies or for the gathering of health data.
Furthermore, hypotheses for the future development of the technology were generated and, with the help of a Delphi study, validated by experts. From these, future scenarios were derived that included the support of technical assistive systems in the service process. These, in turn, were examined with regard to their applicability in the context of various user groups (patients, relatives, nurses, physicians).
The final road map points out needed innovations and initiatives for the use of technical assistive systems in the area of personal services. These innovations and initiatives are implemented in example applications and demonstrators.