Living with Home Medical Care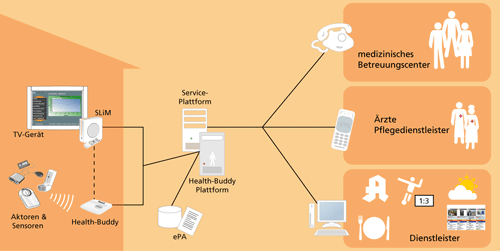 Intelligent technical systems and special services can support older persons in preventing illness and living in their own home for as long as possible. This is the point of departure for the project "WohnSelbst", which is intended to help recognize health risks and deliver continuous patient care as early as possible.
Core elements of this project are a regular voluntary health check in the framework of the MCplus preventive health program, as well as the cost-free provision of medical measuring instruments (blood pressure meter, blood glucose meter, medical scale).
With this technological support, the health status of patients is monitored in their own homes, both preventively and therapeutically. The residents can thus continue to live at home without worry and, despite the physical distance to the doctor's office, receive optimal care. This is made possible by a telemedical competence center, through which the project participants are connected with medical professionals around the clock.
The project is unique in this form in Germany. In its first phase, it addresses older persons who are chronically ill, e. g., suffering from diabetes, obesity, or coronary heart disease. The target group of "WohnSelbst" also includes persons with signs of risk for these illnesses.